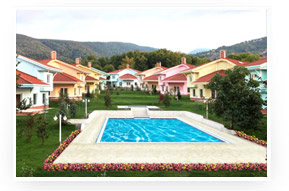 It consists of 14 residences constructed on a land of 14.000 m² in Sapanca Kırkpınar. There is swimming pool in site and each residence has its own hobby garden and leisure centre.

Residences: They have 5 bedrooms, 1 dining room, 2 living rooms, 2 kitchens, 4 bathrooms, 2 verandas and 3 balconies. Each residence has its own parking garage for 2 vehicles. Net usage area is 320 m².

The carrier system belonging to buildings is reinforced concrete carcass; moreover the system has been completed with vertically perforated load bearing tile. Base concrete has waterproofing. The concrete used is water proof. In all concretes, Nuh concrete has been used. Steels are ST III ribbed structural steel. In the whole interior and exterior walls, 20- vertically perforated load bearing tile has been used.

Roof: Wooden carcass, tile roofing, all detail materials of roof system branded Kılıçoğlu have been used.
Internal Plastering: It is perlit gypsum plaster.

Heat, Water and Sound Insulation:Exterior walls have been covered by ceiling tile which is resistant to fire within first degree achieving the most productive result in terms of thermal, sound and steam transmittance. Roofs have been covered by 10 cm of anti vapor rock wool. Heat insulation has been provided with water isolating membrane and rockwool panel under floor coverings.

Heating System: It has been applied in a way that natural gas may be used with panel hermetic combis. In living rooms, casting pattern, unbreakable and heat resistant glass imported fireplace has been made. Thermal rooms has been installed in stairs and in garret. Pipes of chimney flue are stainless spiral extending up to roof inside special chimney bricks. Natural gas system has been constructed within the whole site. Our projects and system have been tested and approved by AGDAŞ. Natural gas panel has been mounted on the walls of residences.

Electrical System: Counters and circuit breakers belonging to residences are in security cabin which remains at the entrance of the site. Each residence has been delivered jointless energy through separate underground table from the main panel. Separate earthing systems have been installed through copper earthing piles on doorsteps. In interior wiring each line has its own circuit breaker. It has fireproofing and phase protection system. In electric system Siemens cut out switches, circuit breakers, panels and Pirelli (Prmian) cables have been used as from main panel.

Telephone System: 1 internal line and 2 external lines have been connected to each residence through underground. Through internal system, central office to provide connection with other residences inside the site and security cabin has been established.

Television System: 4 separate television cables have been laid from 7 centres to residences through the underground. Antennas will be put up for Turksat satellite and other satellites. ( no antenna shall exists on roofs)

Wet Places: Special ceramic series manufactured in Vitra and Çanakkale Ceramic plants have been used for curbs, floor and walls. Within the entrances of residences, halls and verandas coatings made of natural stones, mosaic panels and curbs have been used.

Wooden Manufactures: 1. They have been manufactured through oven dry world class timbers which have been matured for 3 years and humidity rate of which has been decreased to the range of 9-11%. Wooden bases used in vertical and horizontal have been pressed in laminated press and their load tensile strength has been increased by 1 to 10. Then, the ones remaining outdoor have been impregnated by vacuum system and the ones in residences have been impregnated by dipping system. It has been painted by imported (Hemel and Alligator ) special wooden paints. It has been processed within quality to resist for 30 years, although it is not painted against such defects as corrosion and rotation.

Wooden Floor Coverings: They are oak solid hardwood. They have been glued to plywood layers mounted on grilles with 30 cm-intervals on the floor. (Below, it has heat and moisture insulation.) They have been polished for 3 times through polishes resistant to sketching and impact. This polish is guaranteed for 30 years within indoor places.

Windows: They have been manufactured through world class oven dry yellow pine timber which has been. Their seals are I.P.D.M. imported from Germany. It doesn't become hard and deformed in time. Window mechanisms are railed, two sided and secured. (deutsche good) Windows are at the top floor and they have double glazing with T.S.I and with argon gas of 4+16+4mm. The windows within ground floors are 4+16+6 mm laminated, unbreakable, impact resistant and safe double glazing. External frames, edges are larex timber and internal frames, edges, dripstones and parapets are yellow pine timber.

Doors and Their Mechanisms: 1. They have been manufactured by world class massive timber. Their hinges and winders have been made of massive chrome and crystal.

Side Coatings: They have been made of larex with thickness of 3.2 cm and its surface has been painted by ultraviolet resistant paints for 5 times, including one layer of undercoat.

Landscape, Infrastructure, Social Facility and Sport Areas: Plant walls have been constituted through 1250 leylands and blue cypress. Within landscape trees, the most quality local and foreign types have been used. Automatic irrigation systems have been constructed in order to irrigate grass areas and trees. In pool gallery, water container of 50 tons and irrigation motors have been installed. The system has been provided with water through the well dig through drilling.

Roads: They have been constituted through granites and basalt cubic stones taken from Bergama Kozak. In curbs, Lights, tile curbs have been used.

Garden Lighting: It has been constituted through special design armatures. It has been connected to host system within lights at the entrances of residences. All of them will burn when it get darks and flash off when sun rises.

Swimming Pool: Its inner covers are antibacterial and anti slide porcelain. Terraces seem as natural stones and they are anti slide granite porcelain. Its filtering systems are imported.

Social Facility Building: It is one of the beautiful examples of wooden architecture together with its wooden carcass on the top on a field of 70m². Inside there are kitchen, bathroom and grand size of fireplaces of residences. Site management will form usage according to requirement.

90% of the manufacturings belonging to the information indicated above has been realized for site introduction. Remaining parts will be completed rapidly. We undertake.

Tel: 0 264 275 29 00 – 276 20 22